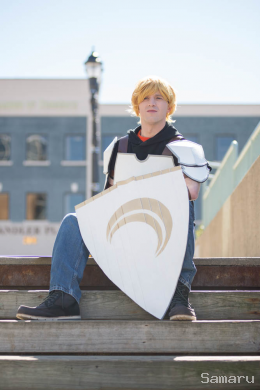 Character

Jaune Arc

Series

RWBY

Status

Complete
Jaune from RWBY was (mostly) finished in time for ShutoCon 2015.  This costume was a lot of fun to create and was my first try at serious armor construction.  Due to many real life issues this was the first costume completed since Kaito. 

The costume consists of the following components:
Armor- The armor is all constructed using the resin/craft foam approach.  The Individual pieces were copied from cardboard templates and then cut and heat shaped.  All the armor was glued together and then covered with mod podge and urethane resin.  This proveded a stiff outer layer that both made the pieces dureable and protected the underlying foam from the paint.  The armor is then attached using streatch leather straps for the arms and pleather straps for the front and back.  Velcro is used to attach the indivual pieces to allow them to break away if snagged in a crowded hallway!
Sword-The sword is costructed out of wood.  The base form of the sword is created from one board and then additional pieces were cut and glued to build up the profile of the hilt. 
Shield-The shield is created entirely from craft foam.  The foam was glued together in multiple layers to form the step pattern.  It was then mod podged and resin covered in the same manner as the armor. 
Sweatshirt-The sweatshirt was created using a standard Kwik Sew sweatshirt pattern.  The only modifications made were removal of the front pocket and shortening the sleeves.
Pants-The current version of the costue uses a pair of jeans.  I do have the fabric and plan on remaking the pants.
Arms-The arms are stretch fabric attached to streatch pleather.  The gloves are purchased leather work gloves.
---
Related Posts